Dosing
Patients may take SOTYKTU anywhere, at any time
Managing moderate-to-severe plaque psoriasis can get complicated. With SOTYKTU, patients take a once-daily pill. SOTYKTU can be taken anywhere, at any time that fits best within their daily routine.
THE FIRST AND ONLY ONCE-DAILY ORAL TYK2 INHIBITOR WITH1: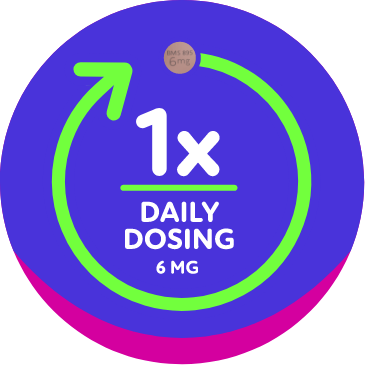 NO
DOSE TITRATION OR DOSE ADJUSTMENT

NO
KNOWN DRUG-TO-DRUG INTERACTIONS
Avoid use with live vaccines

CAN BE TAKEN WITH OR WITHOUT FOOD

ONLY TB EVALUATION
Is required for treatment initiation
(unless patients have known or
suspected liver disease*)
*In patients with known or suspected liver disease, evaluate liver enzymes at baseline and thereafter according to routine patient management.
Update immunizations according to current immunization guidelines. Periodically evaluate triglycerides according to clinical guidelines. Not recommended for use in patients with severe hepatic impairment
SOTYKTU tablet is not shown at actual size. For illustrative purposes only.
NDC: 0003-0895-11
TB=tuberculosis; TYK2=tyrosine kinase 2.
Peer Perspectives: Dosing and Laboratory Evaluations